The wines of Château Rauzan-Gassies result from a precise and diligent selection of land parcels and reflect the quality and perfect mastery of this great terroir.
The merlot, harvested relatively early, brings roundness and freshness to the wine with crunchy, delicious fruit. Harvested next, notes of petit verdot brings out the wine's aromatic complexity reflected by its deep core colour. Requiring a longer time to fully mature, cabernet sauvignon needs to be waited on. It is the vineyard's predominant grape variety and represents at least three-quaters of the final blend. Heat of the great wine, it is balanced between young vines with aromas blackcurrants, blackberries and elderones, ennobled by time, with silky and creamy tannins.
Aged in French oak barrels for 12 to 14 months, the wines of Château Rauzan-Gassies are elegant, delicate and precise, with an intense colour and velvety texture. Especially known to excel with ageing, the very essence of Margaux will reveal all the elegance of its aerial and delicate bouquet over time.
.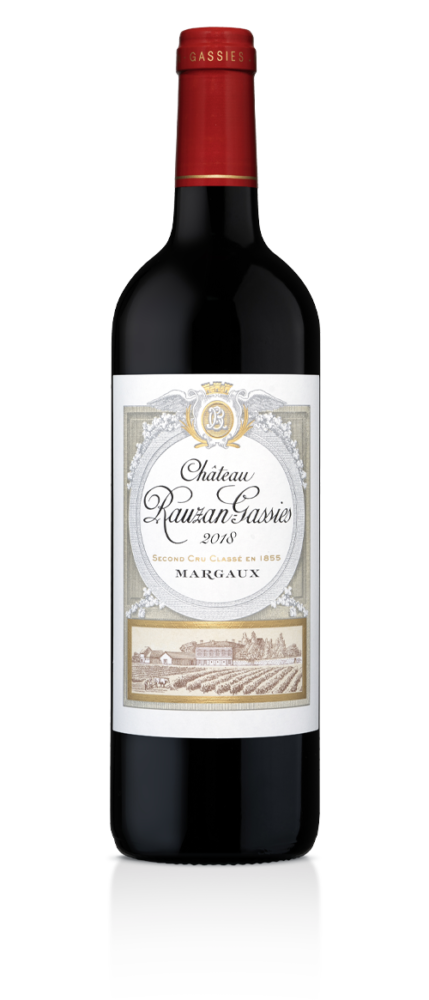 Château Rauzan-Gassies
 Second Grand Cru Classé en 1855
Margaux

VINEYARD
Producting vines : 28 hectares
Producting area : Margaux
Soil : Deep gravels, sandy gravels
Average age of the vineyard : 35 years
Density : 10 000 stocks / hectare
Average yield : 40 hectolitres per hectare
Encépagement : 58 % Cabernet Sauvignon –40 % Merlot –2 % Petit Verdot


CULTURE
Mechanical work of the soil or use of between-rows grass. Poussard pruning. Removal of the laterals and manual repositioning of the clusters. Thinning out of the leaves before the manual harvest.
Signature of Natura 2000 Charter


VINIFICATIONS - AGEING
Stainless steel vats from 12 hl to 120 hl to optimize the plot by plot selection.
Fermentations: temperatures from 26 to 28ºC 2 to 3 pumping-over a day.
Malolactic fermentations in barrels and stainless-steelvats.
12 months in French oak barrels.


PRODUCTION
Around 70 000 bottles


Château Rauzan-Gassies
1, Rue Alexis Millardet – 33460 Margaux – France
Contact@domaines-quie.com
Tél.+33(5) 57 88 71 88