Alias Croizet-Bages, meaning « otherwise known » in Latin, comes mainly from the estate's young vine population intended to produce the first wine in the years to come.
Its blending may vary according to the latest planting and vintage effect. Displaying the subtle spirit of Pauillac, Alias Croizet-Bages offers the charm of a brilliant, gourmet and precise fruit. This second wine carries the estate wine characteristics beautifully; it expresses aromas of cherry and cedarwood on a gently mastered tannic frame.
Vinified with the same care as the great wine, Alias Croizet-Bages is aged in French oak barrels for 12 to 14 months. The delicate gilding of its label illustrates the property's new facilities as a glimpse into the future of Château Croizet-Bages.
.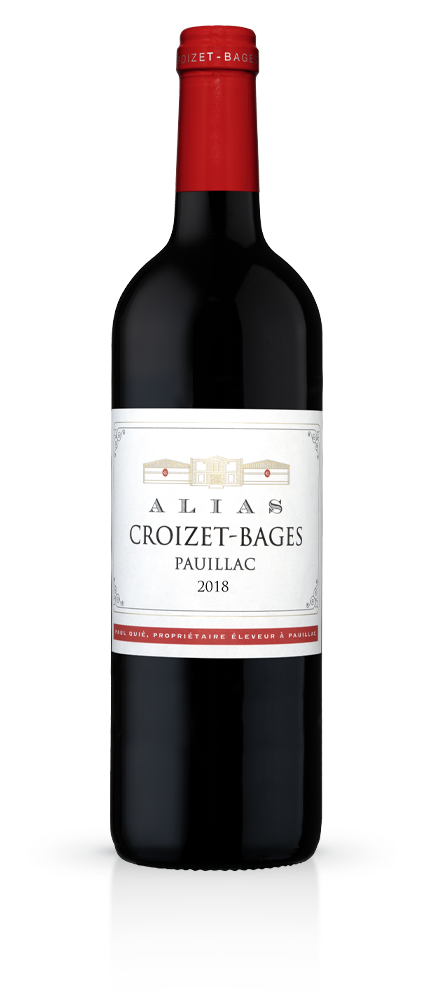 Alias Croizet-Bages
 Second vin de Château Croizet-Bages
Pauillac

VINEYARD
Producting vines : 27 hectares
Producting area : Plateau de Bages à Pauillac
Soil : Deep gravels, sandy gravels
Average age of the vineyard : 35 years
Density : 8 500 stocks / hectare
Average yield : 45 hectolitres per hectare
Grape varieties : 58 % Cabernet Sauvignon –40 % Merlot –2 % Petit Verdot


CULTURE
Mechanical work of the soil or use of between-rows grass. Poussard pruning. Removal of the laterals and manual repositioning of the clusters. Thinning out of the leaves before the manual harvest.
Signature of Natura 2000 Charter


VINIFICATIONS - AGEING
Stainless steel vats from 12 hl to 120 hl to optimize the plot by plot selection.
Fermentations: temperatures from 26 to 28ºC 2 to 3 pumping-over a day.
Malolactic fermentations in barrels and stainless-steelvats.


PRODUCTION
Around 70 000 bottles

Château Croizet-Bages
9, Rue du Port de la Verrerie, 33250 Pauillac, France
Contact@domaines-quie.com
Tél.+33(5) 56 59 01 62